Phoenix Airport (PHX)
Use this website to quickly find the most important information about PHX: Phoenix Airport: Flights (Departures, Arrivals), Parking, Car Rentals, Hotels near the airport and other information about Phoenix Sky Harbor Airport. Plan your travel to Phoenix Airport with the information provided in this site.
Phoenix Airport (IATA: PHX, ICAO: KPHX, FAA LID: PHX), also known as Sky Harbor Airport or simply PHX Airport, is the main international airport serving the city of Phoenix, Arizona, United States. The airport is located 3 miles (5 km) southeast from downtown Phoenix. It is the largest and busiest commercial airport in Arizona.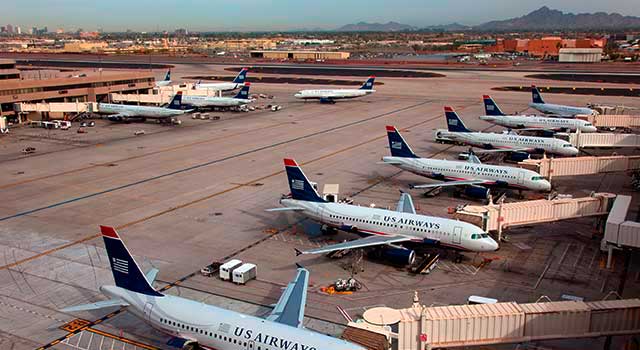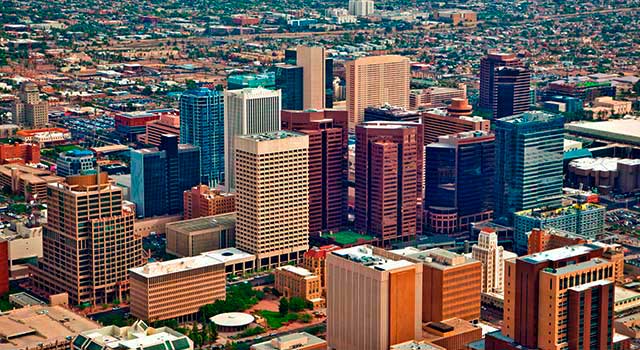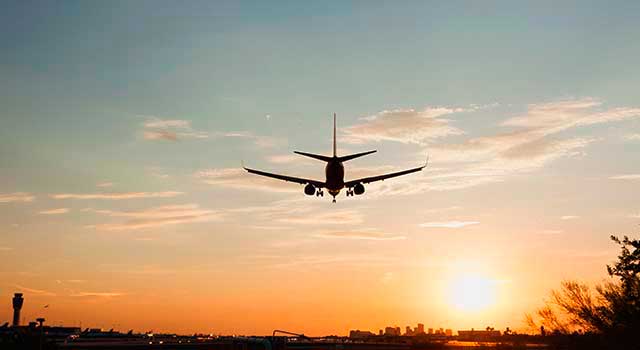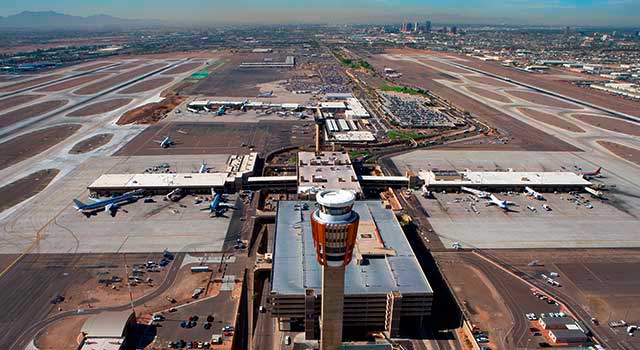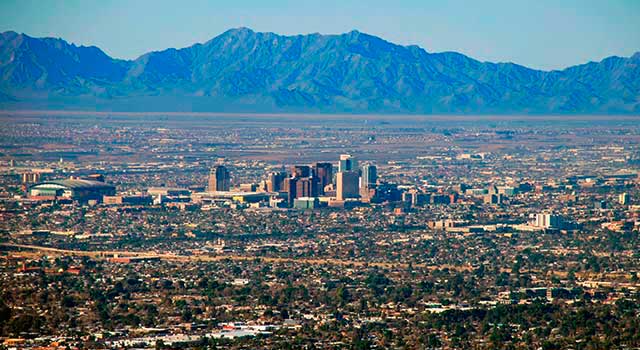 Phoenix Airport serves as the 6th largest hub for American Airlines. This airline operates with more than 300 flights every day and fly to over 91 different destinations in various countries. Also, Phoenix Airport is one of the largest hubs for Southwest Airlines, counting with 188 daily operations to 53 cities in the US
The top 5 busiest domestic routes from Phoenix Airport are U.S. cities/airports. These are the following ones: Denver, Los Angeles, Chicago, Seattle and Minneapolis. In 2017 PHX Airport handled 43,921,670 million passengers. The second busiest year in terms of passenger traffic was 2015.
Terminals
Phoenix Airport has 3 passenger terminals: Terminal 2, Terminal 3 and Terminal 4.
Terminal 2
It has gates from 1 to 15 + C and D.
It is planned to be closed when Terminal 3 Expansion is going to be finished. More information
Terminal 3
Operates with Delta, Frontier, Hawaiian, JetBlue airlines.
It is home of boarding gates 15 to 26 + A and B. More information
Terminal 4
Is the biggest terminal at PHX Airport and handles all international flights. It has 86 gates divided in 7 concourses. All the concourses are grouped as North and South as well. International gates are from B15 to B22 and from B23 and B28.
Facilities
The services that provides the airport are: Chapel, ATMs, Children's Play Area, Nursing Rooms, Smoking Areas, Assistance for Passengers with Special Needs and more. See more Services here.
Inter-Terminal Transport
Terminals are connected by the PHX Sky Train, which stands for an automated train that travels between the airport terminals (T3 and T4), the East Economy Parking and Valley Metro Rail at 44th and Washington streets.
The service is free for passengers and general public.
Departures are done every 3-5 minutes. Service hours: 24/7.
See below the location of PHX Sky Train in each terminal:
- Terminal 3: Level 2.
- Terminal 4: Level 3.
To get to Terminal 2, there is a walkway that connects it from both Terminal 3 and Terminal 4.
On the other hand, Terminal 2, Terminal 3 and Terminal 4, are conveniently connected to the Rental Car Center by the Rental Car Shuttle. This service departs from the curb on the baggage claim level of every terminal. Frequency is of every few minutes.
Transportation
Phoenix Airport has at their passengers' disposal the following means of transportation:
- Bus: A couple of routes connect PHX Airport with the Valley Metro Rail Station to reach Phoenix. Route 13 and 44 (both serve the SkyTrain Station). More information
- Light Rail: Connect to the Valley Metro Rail from Sky Harbor Airport. More info
- Shuttle: Hotels and resorts provide service as well and other shuttle bus agencies run to different cities through Arizona. Wheelchair service need a previous request. To get more information, click here.
- Van: SuperShuttle agency provides shared service. Vans depart every 20 minutes and run 24h daily from 9h to 21h. Phone: (602) 244 9000). More info
- Taxi: Get within 10 minutes to downtown. There are three different taxi companies at PHX Airport: AAA/Yellow Cab, Mayflower Cab and VIP Taxi. Minimum fee from the airport is $15. More information
Phoenix Airport in numbers
- 3 Terminals: 2, 3, 4
- Located 3 miles southeast downtown Phoenix
- 3 runways
- More than 43M passengers in 2017
- 6th largest hub for American Airlines
- 91 different destinations in 4 countries
- American Airlines is the busiest airline in Phoenix Airport
- Southwest and Delta Airlines are the 2nd and 3th busiest airlines at PHX Airport.
Car Rental
Check here all the car rental agencies that provide service at Phoenix airport and book online your vehicle now!
Contact information
Address: 3400 E Sky Harbor Blvd, Phoenix, AZ 85034, USA
Phone: +1 602-273-3300
Lost and found
Items lost in the public areas or ground transportation areas:
Phone: +1 602-273-3333
E-mail: lostandfound@phoenix.gov